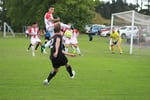 Max Drake plays right back and right wing back for West Coast Rangers men's first team competing in the Northern League.
After a storming start to the season, Max has had to step back from WCR duties in order to pursue an even more exciting opportunity - a trip to the UK for trials with professional clubs, including Burnley of the FA Premier League. Obviously this is a really exciting opportunity for Max, and there is a pretty interesting story to tell regarding how it all came about.
We caught up with Max for a chat just before he got on the plane to find out more....
How has the season gone so far for you personally and as a team at West Coast Rangers?
Personally I have really enjoyed being a part of West Coast Rangers first season. I have been fortunate to play in virtually all of the league games so far. Whilst many of the results have not gone our way I feel as though we deserved a lot more. We have conceded some really late goals and if it had not been for them the league table would look quite different. Having played in this league before it is obvious that the standard is higher than ever and as a young player it is great to be playing against some of the top players in the country every week. I have been pleased with some of my performances whilst in others I feel as though I could have done more to help the team.
You've become quite the favourite amongst the junior players at the club. How have you enjoyed coaching our younger players at the club?
To be honest the thought of coaching young lads made me quite nervous as I had never done it before and it doesn't feel like that long ago that I was one of them. Once I got into it I really enjoyed it and it was quite satisfying to see the players improving and to see how much the seemed to enjoy it. I seem to get on really well with many of the little kids as I am just a little kid really myself and find a lot of the same things funny.
You're off to Premier League side Burnley Football Club next month for a trial there, how did this opportunity come about and how do you feel ahead of your trip there?
I have been lucky enough to get an opportunity at Burnley through an online scouting app called AI scout that tries to identify players from around the world that have a British passport and not previously been in the academy system. The app uses a series of physical and technical tests to asses players and then offer the data to clubs that are looking for particular types of players. The tests were undertaken by 13,500 people and Burnley selected 26 possible players that they are interested in taking a closer look at.
The trip to the UK will also include going to other pro clubs from the football pyramid to try and earn a contract. This has been arranged by Paul Harkness, who was my old coach at NSU and is now a football agent in the UK trying to get players from New Zealand into the pro game.
Having had previous experiences at pro clubs in the UK I have a pretty good idea of what to expect and how tough it is going to be. I've learnt the lesson from my previous trip, not to put too much pressure on myself and to just try to play my natural game and be confident.
On my last trip I was too worried about making mistakes and therefore didn't really do myself justice. This time I'm determined to back myself and really make the most of the opportunity. While it's a nerve-wracking prospect to travel to the other side of the world it has always been my dream to be a pro footballer and now I have the chance to make that prospect reality which is really exciting.

What's been the highlight of your playing career so far?
I've been very lucky growing up to play in some very good teams. At NSU as an U15 team we won the metro league for the first time in the clubs history, with four players from that team going on to play for New Zealand. Many of those same players played for NFF rep team that won the national age group champs in Wellington which was great to be a part of.
Another tournament highlight was winning the western springs National U17 tournament as part of a wellington Phoenix Academy team. Whilst all of these highlights are in youth football, I really enjoyed my start to men's football winning promotion to the northern premier league with NSU as a 15 year old.
Although these highlights where all great, nothing compared to playing for New Zealand and the first time you line up to hear the national anthem. The World Cup qualifying tournament in the Solomon Islands was certainly an experience I will never forget, especially the final in front of 15,000 passionate Solomon Islanders.
The World Cup itself in Brazil was a great experience for me although I have mixed feelings about it as I spent much of my time sitting on the bench. However playing against an extremely strong Argentina u17 national team in Buenos Aires in a warm up game was undoubtably the highlight of the trip for me.
I have been lucky to have so many great football experiences at such a young age and I hope the reminder of the season at WCR can provide some more.
What's your favourite West Coast Rangers memory?
As a group of players I feel we have been really committed and together throughout the season, and have often been really disappointed and frustrated after games as we haven't necessarily got the result we feel we deserved.
After all that frustration, when we finally got our first win of the season against Northern Rovers it meant so much, and you could feel that relief and excitement from the other players in the dressing room, as well as the supporters in the clubhouse during and after the game.
Big thanks to Max for the chat and we will check in with him again soon to see how this story develops and find out what the experience in the UK has been like. Watch this space....