Player Pathways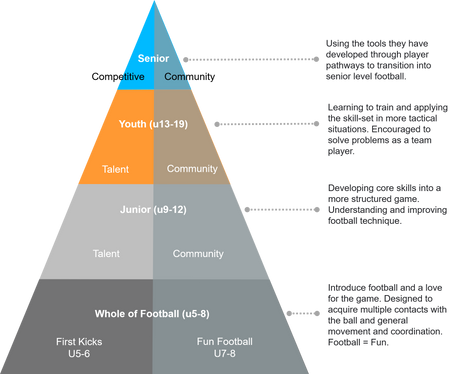 Our Age Specific Programmes
West Coast Rangers deliver age specific football programmes for the following age groups:
Whole of football Programme (U4 – U8)
Junior football (U9 – U12)
Youth football (U13 – U19)
Senior foorball (20+)
Our programmes are aligned with and supported by New Zealand Football ('NZF') and Northern Region Football ('NRF').
The Club competes in leagues in the NRF region throughout the age grades, with our top senior competitive teams competing in the NRFL Premier ('Lotto Sport Italia NRFL Premier') and NRF Women's Conference.
Our programmes are supported by a comprehensive Football Philosophy developed by our full-time professional coaching staff, and reflecting the unique characteristics and competitive ambitions of our club and players.
Our Football Philosophy
The Club is determined to continue to develop as a leading football entity within New Zealand and hopefully the international stage. We're proud of our football philosophy and believe this gives us a fantastic platform in which to achieve great things for our Club.
We aspire to develop high performing teams that excel across all levels – from senior men's prems and our top women's teams, through our social senior teams, youth and junior football and right down to where our teams start to play in First Kicks football.
The game of football is always changing and evolving, and we are committed to do the same. We will continuously look at ourselves to see where and how we can improve to be the best we can be.
We are committed to providing all our members an amazing football experience that not only teaches them football skills but also helps create well rounded and great people that will serve our larger communities well.
Key to the successful implementation of and adherence to the football philosophy is:
Quality Coaches who are supported and developed
Appropriately funded and equipped coaching and technical team
Great volunteers at team coach and manager level from U4 – U12 (and beyond) who have the support they need to deliver our programme
Appropriate management, administrative and communications structure to support our football operations